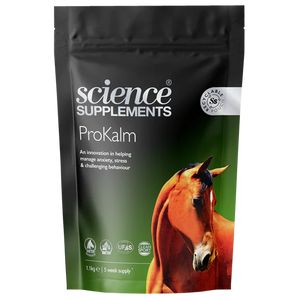 ProKalm Horse Calming Supplement
Rated the UK's Number 1 calmer in a survey of over 1600 horse owners
An innovation in helping horses perform to their potential
Aids concentration
Available in a syringe or daily feed supplement
2.4lb (1.1kg) tub gives approximately 5-week supply
Product Description:
What? 
ProKalm has recently been rated the UK's Number 1 in a survey of over 1500 participants and is an innovation in helping horses and ponies perform to their potential. Using a unique formulation, ProKalm acts rapidly - in as little as 30 minutes - with the effects lasting up to 8 hours. At low intake, ProKalm is perfect for "taking the edge off". At moderate and high intake, ProKalm is suitable for more demanding or stressful situations. A unique combination of herb extracts and amino acids, but does not contain valerian, magnesium, or tryptophan. ProKalm does not sedate or affect gait or performance, but helps relax and focus the horse. In 3 clinical trials, ProKalm has been shown to reduce itching, improve dressage scores for motions related to relaxation and extension, and reduce stereotypical behaviors like wind-sucking, cribbing, weaving, and stall walking.
Why not magnesium? There is no scientific evidence that magnesium has any calming effect in horses
Why not valerian? It is illegal under FEI and rules of racing
Why not tryptophan? Tryptophan signals to the body that it is exhausted and has a negative effect on performance.
Are any ingredients not allowed under FEI rules? ProKalm ingredients are all approved under FEI rules. 
Why? 
However well you manage horses, stressful triggers can cause difficult or even dangerous behaviors. Anxiety, management, or environmental changes may lead to undesirable behaviors when stalled or at pasture, and some horses may become difficult to train, handle, or ride due to their lack of focus or their tension level. Some horses benefit from enticing a calming sense to help them have more reasonable responses to stimuli or changes or to help them deal with unavoidable stressors.
When? 
ProKalm is perfect for "taking the edge off" for horses who are anxious or tense. At moderate and high intake, ProKalm is suitable to help ease reactivity during more demanding situations. ProKalm is available as a daily feed supplement or as a syringe and can be fed as required, for isolated situations, or on a daily basis for more consistent results. The powder and syringe can be used simultaneously if needed.
The effects of a single dose can begin within 30 minutes and last for up to 8 hours. The amount given can be varied to get the desired effect, and some horses require a higher rate than others. For a strong effect, e.g. to clip, shoe, stall unexpectedly, or horses that are overly active during turn out, give 2-4 scoops for a 1100lb horses in feed within at least 30min of trigger activity. For a mild-moderate effect, e.g. for riding, travelling, etc., give 1-2 scoops for a 1100lb horse in feed around 1-2h before peak effect is required. For sustained results over time, give 1 to 2 scoops for a 1100lb horse in both morning and evening feeds for at least 7 days. For first time use, we strongly recommend starting with only 2 scoops per day, split between morning and evening feed, for an 1100lb horse to determine the level of response. If the effect is too strong, then reduce the feeding rate. If after 1-2 days the effect is not strong enough, then increase the number of scoops per day for a few days, slowly increasing up to the maximum recommended intake.
Directions for Use:
Use the 25ml (16g) scoop provided
                                                         Level 25ml (16g) scoops per day
Pony - approximately 550lbs              1 - 3
Horse - approximately 1100lbs          2 - 4
Large Horse - over 1650lbs                2 - 6
-Mix thoroughly with feed and split between meals where possible.
-Always start with the minimum feeding rate. If after 2 days a stronger effect is needed, then increase the daily feeding rate, up to the maximum recommended daily intake. If a less potent effect is required then decrease the daily feeding rate. Individual horses may respond differently and the level of intake should be adjusted to obtain the required effect.
-The effects of ProKalm may be seen in as little as 30 minutes. The effects of a single feed can last for up to 8 hours. Peak effects are usually observed 2-4 hours after feeding.
-For difficult behaviors, the effect may take 2-3 days to stabilize.
-The effects of ProKalm are more predictable and consistent when it is fed regularly twice a day.
-Do not exceed the recommended intake.
Product Facts & Ingredients: 
One of our core values is transparency. That's why we list all the active ingredients so you know exactly what your horse is getting.
ACTIVE INGREDIENTS PER DAILY MAINTENANCE DOSE*
32 g (2 x 25 ml scoops) ProKalm Powder Provides:
Proprietary Blend of L-Theanine, Lemon Balm extract
   (Melissa officialis), L-Tyrosine, and Indian Ginseng / Ashwagandha
   (Withania somnifera)



6.7 g
INACTIVE INGREDIENTS:
Ground rice
Research:
Please Click Here for our Research Page, or go to: https://sciencesupplements.com/pages/research