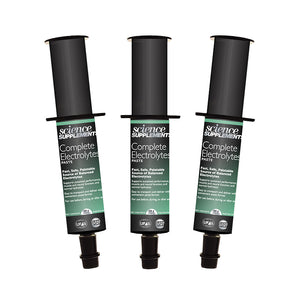 Complete Electrolytes Syringe 60g Horse Electrolyte Supplement
For all horses in work
Contains all the key electrolytes sodium, chloride, potassium, calcium and magnesium
For sustained performance
Convenient on-the-go syringe is easy to administer and transport
Also available in a 4.4lb (2kg) tub (powder) for approximately 6 weeks supply

Per 60 g (1 full syringe) Complete Electrolytes Provides: 19 g Chloride, 10 g Sodium, 3.8 g Potassium, 0.3 g Calcium, 0.1 g Magnesium
| | |
| --- | --- |
| Chloride | 19 g |
| Sodium | 10 g |
| Potassium | 3.8 g |
| Calcium | 0.3 g |
| Magnesium | 0.1 g |
Product Description:
What?
A highly palatable and fully balanced electrolyte, the Complete Electrolyte Syringe is an easy way to replace the electrolytes your horse loses during exercise – sodium, chloride, potassium, calcium, and magnesium – in proportion to their loss rates. The Complete Electrolytes Syringe is specifically designed for horses in work and need on-the-go electrolyte deliver, immediate/acute electrolyte support, or to aid in rapid recovery.
Why?
The loss of electrolytes can severely limit your horse's performance during competitions and their ability to recover from hard work. The five key electrolytes provided in Complete Electrolytes are important for keeping your horse healthy; they aid nerve, digestive, muscle, kidney, lung, and heart function and are important for maintaining normal hydration. It is important for all horses in work to receive extra electrolytes to replace those they lose through sweat and bodily excretions, and the amount of electrolytes lost correlates to how hard the horse is working and the temperature. The average horse will lose around 5 liters of sweat on a usual day, which can cause them to lose around 50g of vital electrolytes that need to be replenished.
When?
The best way to keep your horses electrolytes stable is to incorporate the Complete Electrolyte Powder into their feed every day, and provide the Complete Electrolytes Syringe during or after hard work or high sweat loss. It can take months to restore your horse's electrolyte balance after a month of training, so it is vital to replenish as you go to prevent electrolyte imbalances and help your horse return to work with proper electrolyte levels for optimal performance.
Feeding Directions:
                                                            Recommended Dosing
Pony - approximately 550lbs              ½ syringe
Horse - approximately 1100lbs          1 syringe
Large Horse - over 1650lbs                1 syringe
-This product can be used daily as needed or following hard work or excessive sweating
-Always ensure unlimited access to water.
Guaranteed Analysis & Ingredients: 
One of our core values is transparency. That's why we list all the active ingredients per daily feeding rate so you know exactly what your horse is getting.
For Electrolyte and Hydration Support in All Horses
GUARANTEED ANALYSIS:
| | |
| --- | --- |
| Crude Fats (min) | 18% |
| Crude Fiber (max) | 1% |
| Moisture (max) | 10% |
| Crude Ash (max) | 58% |
| Calcium (min) | 0.5% |
| Calcium (max) | 1% |
| Sodium (min) | 14% |
| Sodium (max) | 17% |
| Potassium (min) | 6% |
| Magnesium (min) | 0.16% |
INGREDIENTS:
Sodium chloride, Glycerin, Sorbitol, Potassium chloride, Glucose syrup, Sodium citrate, Calcium chloride, Water, Magnesium chloride, Peppermint oil (flavoring), Xanthan gum (emulsifier), Potassium sorbate (preservative), Sodium benzoate (preservative)
Research:
Please Click Here for our Research Page, or go to: https://sciencesupplements.com/pages/research