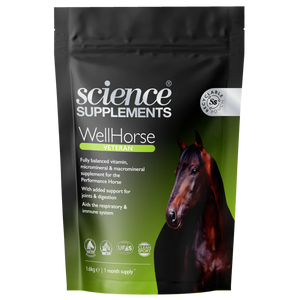 WellHorse Veteran Horse Feed Balancer Supplement
Fully Balanced vitamin, micromineral, and macromineral support for the older horse
Protected live yeast to aid gut health
With added prebiotics for immune health
Veteran supplement that meets the NRC and BASF recommendations for vitamins & minerals
3.5lb (1.6kg) tub gives approximately 1-month supply
Product Description:
What?
WellHorse Veteran is supported by 50 years of scientific research into what individual horses and ponies require and is formulated to meet the demands of the older horse. It contains every important nutrient your veteran horse requires and meets the NRC (National Research Council) and BASF (Animal Nutrition) recommendations for vitamins, microminerals, and macrominerals. WellHorse Veteran also provides a high-quality source of Glucosamine and MSM to help support joints, increased levels of Vitamin E and C to aid tissue, respiratory, and muscle function, and an innovative protected live yeast and a mycotoxin binder to support a healthy GI tract.
Why?
Horses' nutritional requirements change as they age and WellHorse Veteran has been formulated to safely satisfy their specific needs. With advanced age, increased exposure of oxidative damage puts older horses at risk of loss of tissue integrity, slow healing, and cancerous tissue development. Thus, higher levels of antioxidants Vitamin C and Vitamin E are needed in the older horse to help maintain tissues. In particular, joint damage is more common in the older horse, so we include glucosamine for its proven joint protection and MSM for anti-inflammatory support. With advanced age, it is common for horses to become less adept at efficient digestion and absorption of feeds for various reasons, leading to less uptake of nutrients and loss of proper fecal consistency. This is why we include live protected yeast to help increase fiber digestion and prebiotics that support the immune function of the GI tract, bind mycotoxins, and improve fecal consistency/reduce water loss in feces.
When?
Perfect for the veteran horse on a forage only diet, otherwise restricted diet, to supplement lower quality feeds, or who have difficulty gaining or keeping weight or with digestive issues. Also a good option for non-veteran horses who would benefit from higher levels of antioxidants, joint support, and GI tract support (such as younger horses in training or light-moderate work).
Instructions for Use and Feeding Guide:
Use the 25ml (18g) scoop provided
                                                            Level 25ml (18g) scoops per day
Pony - approximately 550lbs              1½
Horse - approximately 1100lbs           3
Large Horse - over 1650lbs                 4½
-Mix thoroughly with feed and split between meals where possible.

-Monitor feeding other supplements containing selenium.
-Do not exceed the recommended intake.
Ingredients & Composition: 
One of our core values is transparency. That's why we list all the active ingredients per daily feeding rate so you know exactly what your horse is getting.
Active Ingredients:
Per 1100lb daily dose (3 x 25ml) 54g WellHorse Veteran delivers: Vitamin A 30,000IU; Vitamin B1 (Thiamine) 30mg; Vitamin B2 (Riboflavin) 30mg; Vitamin B3 (Niacin) 50mg; Vitamin B5 (Pantothenate) 30mg; Vitamin B6 (Pyridoxine) 20mg; Vitamin B12 250ug; Vitamin C 3000mg; Vitamin D3 (Cholecalciferol) 3300IU; Vitamin E (alpha-tocopherol) 3000mg; Vitamin K 10mg; Folic acid 20mg; Biotin 1.25mg; Choline 750mg; Selenium 1.25mg; Iodine 3.5mg; Manganese 400mg; Zinc 400mg; Copper 100mg; Magnesium 87mg; Calcium 7.6g; Glucosamine HCl 5000mg; Methyl sulphonyl methane (MSM) 6000mg; Saccharomyces cerevisiae 9 x 1010 CFU; MOS & betaglucans 5000mg.
Composition:

Retinyl acetate, cholecalciferol, a-tocopherol, vitamin K, folic acid, niacin, calcium pantothenate, riboflavin (B2), vitamin B12, thiamine (B1 nitrate), pyridoxine (B6 HCl), biotin, ascorbyl mono phosphate, sodium selenite, calcium iodate anhydrous, manganese oxide, zinc oxide, copper sulfate, choline chloride, calcium carbonate, magnesium phosphate, yeast, methyl sulphonyl methane, glucosamine hydrochloride, alfalfa meal.
Analytical Constituents:

Protein 9%, Oils and fats 3%, Fiber 10%, Ash 11%, Moisture 8%.
Additives (per kg):
Vit A E672 (526KIU/kg); Vit D3 E671 (58KIU/kg); Sodium selenite E8 4.4% (1.09g/kg); Calcium iodate anhydrous E2 (0.10g/kg); Zinc oxide E6 (9.7g/kg); Cupric sulfate pentahydrate E4 (7.0g/kg); Manganese oxide (1.1%); Saccharomyces cerevisiae CNCM I-4407 1.6 x 1012cfu; EC permitted flavor.
Research:

Our ingredients included and the levels are based on the recommendations of the National Research Council (NRC) Nutrient Requirements of Horses
(follow link to purchase or read online).
Please Click Here for our Research Page, or go to: https://sciencesupplements.com/pages/research