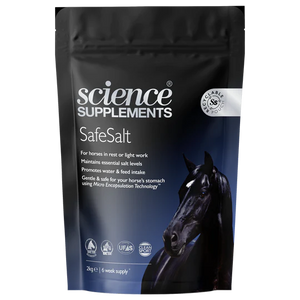 SafeSalt Horse Salt Supplement
For horses in light work or rest
Maintains essential salt levels
Promotes water & feed intake
Gentle & safe for your horse's stomach using Micro Encapsulation TechnologyTM
4.4lb (2kg) tub gives approximately 2-month supply
Per Daily Maintenance Dose* (1 x 25 ml scoops): 28 g SafeSalt Provides:
13.4 g Chloride, 9 g Sodium.
| | |
| --- | --- |
| Chloride | 13.4 g |
| Sodium | 9 g |
Product Description:
What?
SafeSalt provides sodium and chloride in a palatable, gentle on the stomach delivery system where individual grains of salt are coated in special oil which will not dissolve in the mouth or stomach. This protects the salt from absorption until it reaches the small intestine – the ideal location for salt absorption.  While table salt can be added to the feed, horses often find this unpalatable and their granular nature means that it is easy for fussy horses to leave them at the bottom of the feed manger. Further, there is also evidence that ordinary salt can cause or worsen gastric ulcers in horses (think how salt on a wound feels – of course horses with ulcers don't want to eat salt!). SafeSalt is a unique formulation that provides a palatable source of sodium and chloride and helps overcome these potential palatability problems.  In a clinical trial submitted to the 2013 Proceedings of the Equine Science Society, SafeSalt was shown to increase sodium intake when compared to salt block access, and was shown to increase water intake at mild temperatures.
Why?
Salt (sodium chloride, chemical formula NaCl) is a key nutrient required for nerve and muscle function, maintenance of normal hydration, and digestive, kidney, lung and heart function. While forage is rich in potassium and chloride, few feeds contain sufficient sodium to meet the needs of the horse. Thus, the most common electrolyte deficient is sodium, so most horses need supplemental salt just to meet their basic requirements. Further, horses in work, competing, and racing require extra electrolytes to replace those lost in sweat, feces, and urine, and sub-optimal electrolyte intake can lead to muscle problems and poor performance.
When?
Salt imbalances can take weeks or months to correct, but are relatively easy to prevent with daily feeding. Therefore SafeSalt should be given daily in feed, especially during training and/or warm weather. SafeSalt is an ideal alternative to ordinary salt or electrolytes for horses that go off their feed during hard work, and is particularly helpful for horses with gastric irritation or ulcers to help stimulate drinking water (which maintains hydration and simply soothes the stomach).
Feeding Directions:
Use the 25ml (28g) scoop provided

Maintenance / Light                         Level 25ml (28g) scoops per day
Pony - approximately 550lbs              0.5
Horse - approximately 1100lbs          1
Large Horse - over 1650lbs                1.5
Moderate
Pony - approximately 550lbs              1
Horse - approximately 1100lbs          1.5
Large Horse - over 1650lbs                2
Hard / Hot Weather
Pony - approximately 550lbs              2
Horse - approximately 1100lbs          3 - 4
Large Horse - over 1650lbs                4 - 5
-Mix thoroughly with feed and split between meals where possible.
-Always ensure unlimited access to water.
-Do not exceed the recommended intake.
Guaranteed Analysis & Ingredients: 
One of our core values is transparency. That's why we list all the active ingredients per daily feeding rate so you know exactly what your horse is getting.
For Electrolyte and Hydration Support in All Horses
GUARANTEED ANALYSIS:
| | |
| --- | --- |
| Crude Fats (min) | 19% |
| Crude Ash (max) | 76% |
| Sodium (min) | 31% |
| Sodium (max) | 33% |
| Chloride (min) | 47% |
INGREDIENTS:
Sodium chloride, Vegetable oil, Spearmint (flavoring)
Research:
Please Click Here for our Research Page, or go to: https://sciencesupplements.com/pages/research